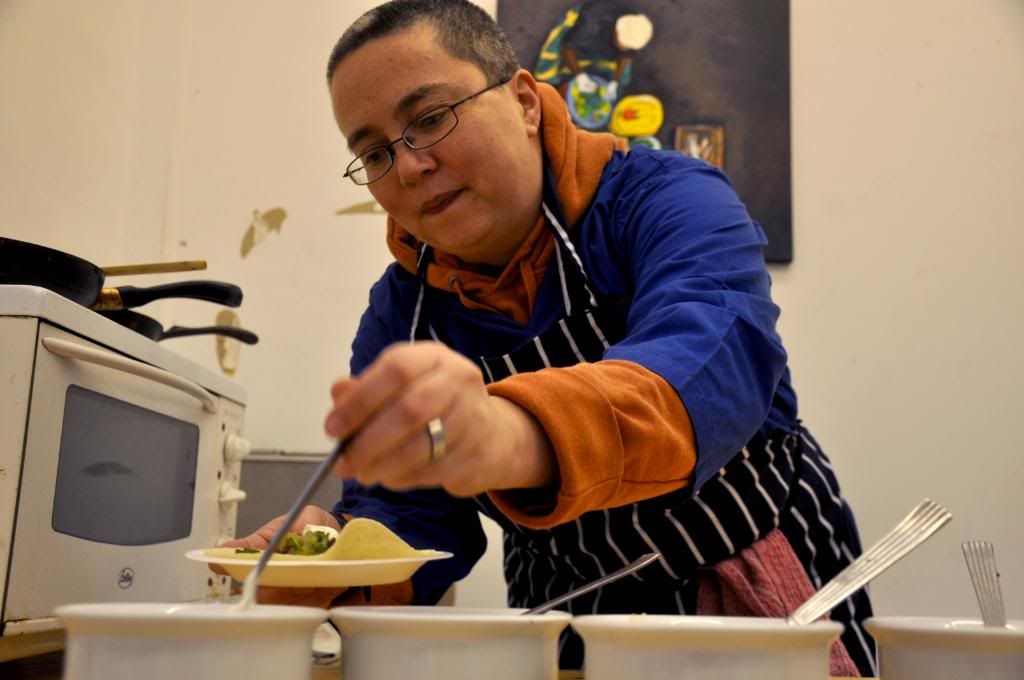 This past Saturday, Kels and I participated in the January Tasting Day sponsored by
Spacemakers
to celebrate and showcase the diversity of food offerings at the Brixton Village Market. There was definitely a festive feeling and, by chance we ended up hosting a few conversations about the pros and cons of such an event in our space. Dougald from Spacemakers has summed up some of the range of feedback he got in the spacemakers blog
here
.
We were given an empty unit for the day to transform into our very own food shop.
Kit Boyd
, another market resident, generously offered to hang some of his work to brighten up the space, Mexican Dia de los Muertos bunting was hung outside, tables were set up, a bain marie and hot plate turned on and...we were in business!
Not having done an event like this before I was unsure of how much to make so i settled for double batches of Carnitas which were served in tacos and bowls of Black bean veggie chili. For the sweet tooths I made Apple cinnamon cake and Carrot cake with cream cheese frosting. By the end of the day we had sold out of the chili and sold off one and a half cakes as well as most of the carnitas.
The best thing about eating a carnita is how you customise it to your taste. For our customers we offered lime wedges, sour cream, grated mature cheddar cheese, salsa de jitomate verde (green tomato salsa), chopped coriander leaves and chopped onion. I had also made a batch of red tomato salsa but left it in the fridge!
It was exciting to have customers and see them try the food first-hand. Overall the response was positive and I think as result I've caught Taco Truck Fever. I'm going to have to do some more research on the subject, maybe a trip or two to Mexico is on the cards so I can learn from the experts. Who knows??
**Special thanks goes to Julia and Dougald of Spacemakers for getting us the unit; Neil for logistical help on the day and Yvette for lending us her catering equipment.
Carnitas (from Diana Kennedy's The Cuisines of Mexico)
the recipe below is for one batch of carnitas
3 pounds pork shoulder (ask your butcher to bone and skin it but to leave as much fat on the meat as possible)
1.5 tsp salt
water
1. cut the pork into 2-inch x 3/4 inch pieces.
2. put the pork in a large pot and add the salt and enough water to barely cover the meat.
3. bring to the boil and continue cooking over medium heat until most of the water has evaporated.
4. turn the heat down a notch and continue cooking the pork until the fat starts to render and the pork turn brown and crispy. if the pork doesn't have a lot of fat you may need to use lard to get the desired crispy consistency.
5. serve on warmed corn tortillas with your choice of garnish.